Do you remember Sunday, 7th of July 2019? On this day heroes were born. The USWNT was in the women's world cup final. Over 260 million viewers saw this game. Live in Paris, France.
Especially one girl from Cincinnati, Ohio, had a great day. In the 69th minute of the final. It was the USWNT against Netherlands, Rose Lavelle is gathering the ball in midfield. She is running towards the goal, facing a couple of defenders, she shifted the ball to her left foot, and hit it clean. 2–0.
Her influence on the field was one of the main keys to the success. The USWNT wins the world cup 2019 the 4th time.
Lavelle said in an interview after the victory:
"We all came together. We worked so hard to get to that moment So it was fun to be able to celebrate with every single person that helped get us there."
ABOUT ROSE
But who is this young woman who so many young soccergirls look up to? And how was her journey to the USWNT? Here's what she tells you:
"I first started playing when I was five. Soon I ended up being obsessed with soccer," she explains. "My coach, Neil Bradford, made it so fun for me. He would give me little challenges to do in my backyard. He's the reason I fell in love with the game.
He made every practice and every game so much fun. When you're that young, fun is why you are doing it. Soccer brings you joy. Even now, when things are hard. I ask why am I doing this in the first place. The answer is because soccer makes me happy."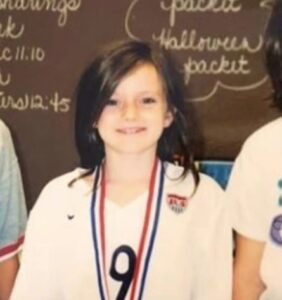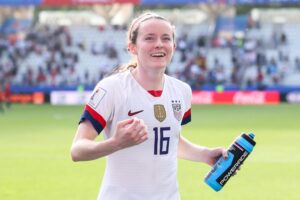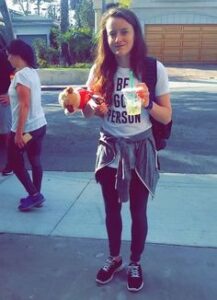 But her way was never easy. As a kid – even a talented one – she was also often overlooked, not considered for elite youth pathways and ignored by top college programs.
Eventually she was invited to the youth national team.
"My first camp was Abby Wambach's last. I was so nervous," Lavelle recalls. "There were players that I had looked up to over the years.
Now I was sitting at the same dinner table as them. Once you step on the field, you are back doing exactly what you love. But it was obviously super competitive and high pressure.
It took me a while to feel comfortable and feel that I belonged there. It is pretty intense. But you either sink or swim when you get there."
Her debut in the USWNT is a 1-0 defeat to England in 2017. But Lavelle was named Player of the match. She had impressed.