Hello, my name is Emily,
I am 14 years old and I have been playing football for 5 years. I am from London which is in the United Kingdom.
It all started by playing for my school team as a defender and eventually the captain. When I moved schools at the age of 11 I discovered that I really enjoyed being a goalkeeper. For that I had some natural talent which I wanted to embrace.
Trailling for my school teams made me the no.1 goalkeeper which I was very happy about. Then I joined my local club which prepared me for moving up into a high standard league. I ended up trialling with Tottenham at the end of my first year playing club football. I did really well in the trials but after all of the rounds I was rejected.
It made me upset for a few weeks. But it only made me stronger and gave me the desire to improve and become the best I could be. Finally I had a successful trial with the club I played for this season – Highbury Wolves. I got to play a variety of academies and it has set me in good stead to trial for an academy for the up and coming season.
Coronavirus has crushed some really exciting opportunities I had for this year. But I will only be better when they happen next year. In the meantime I am training almost everyday to become the best goalkeeper I can be.
PLAYING FOR ENGLAND – MY FUTURE GOAL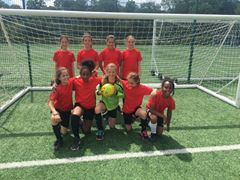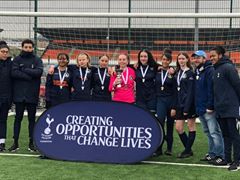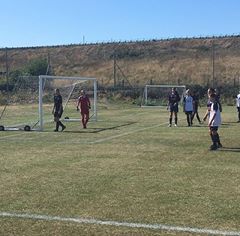 My goal for this year is to get into an academy and keep on improving. My long term goal is to play for England and in the Women's super league.
I know that I am going to have to make some tough decisions about my future in the next few years. So the work I put in now is more important than ever.
Already I made such an improvement since my first ever goalkeeper session in October 2018 and also since last years trials. Now I look back on my academy rejection as a good thing as it made me a better player because of it. Hopefully things work out for next season and I end up at a good academy which will help me development further.
Whatever you do, don't let rejection get you down take it as a point to improve on to become better than ever before.
Never give up on your dreams, as long as you put in the hard work you will succeed. You have to believe in yourself!