My name is Camila Miranda I am an 11 year old girl from Mexico. I've been playing soccer in a team for about 6 years now.
When I was 5 years old, I started playing soccer . Since then I fell in love with the game.
I started playing in a team called Cracks which was just opening a team for girls. Me and two of my friends from school entered and we plus two other girls were the only female players. Our team started growing and more girls came in. We had very few games at first because there were not many teams of out age. The few ones we had we lost almost all the time.
Later on when we were about 7 there started being more small tournaments with girls of our age. We finally started to win! First many small cups and later we entered a league and made it to the final. We lost the final game. All were excited anyways because it was our first time in the league and we made it to the final! After that I played on a small 1v1 tournament and I won all my matches!
On December of that year we had our first tournament out of the city, It was McAllen and we won second place and it was so fun!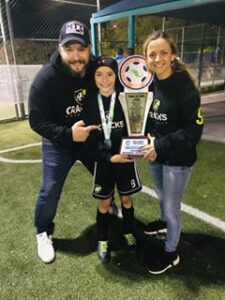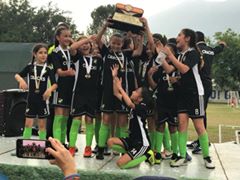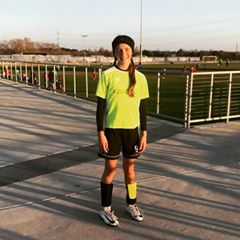 WE ARE THE CHAMPIONS
On the next year's league we made it the final again. This time we were champions! I won the best scorer award and MVP (Most Valuable Player) of that league. The next year we made it to the final again but we lost. It was an awful feeling but I knew I needed to change my attitude and get up and train harder than I did last year. Right now I am working and training really hard. So that I can improve and be better than I was last year.
Because I want to be a professional soccer player and play a World Cup representing my country. But to get to that I have to enjoy the process and work harder and harder every day.
The process you have to go through to achieve your goals is almost as awesome as the results.