Hi, I am Summer. My journey with football started at Leighton town, UK when i was 6 years old. My story started with mixed football, which at first was daunting, but my teammates made me feel welcome. So I really enjoyed the training.
My manager put me centre forward. During the season I was getting lots of chances but just not getting the luck sometimes. Hitting the post and I had chances saved off the line. I was desperate to score. In my tenth game it finally happened!!!!!!. The ball was passed to me, I took it around the defender and slotted the ball into the bottom corner. I looked over and my coach was on the pitch. My mum and dad looked so happy! I didn't stop smiling for a week.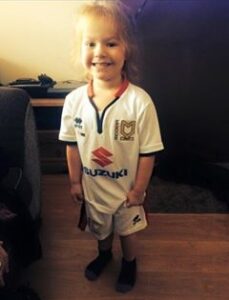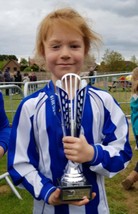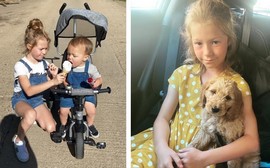 Once I had scored my first goal it gave me the confidence to keep trying. 5 more goals in the next 5 games were my score before I went for a trial at Flitwick Eagles.
I went to training with Flitwick, it was a girls team and they were very good. I loved the training and my new teammates and signed up to play for them that year. At this time I had also started to do 1-to-1 training midweek to practice skills and drills. The drill I learnt in the week I would take into the games .
There was not long left of the season when I joined but I managed to score 14 goals in 8 games before the season finished.
2019/20
My first full season with Flitwick and I also joined Leighton United mixed on a Sunday. I was still doing midweek 1 to 1 sessions and with flitwick and I got to be a ball girl at Wembley and an Arsenal Womens super league game.
I had my best season with Flitwick finishing top goalscorer scoring 32 goals in 16 games!! Before COVID19 stopped our season. I also joined V24 and a soccer coaching academy for extra training which i love an continue to do once a week.
Like everyone else I was so disappointed when our season was cut short, I decided to set up and instagram account, I now have over 600 followers and love to see my friends showing off their skills. I recently won a competition from the lionesses official instagram account and won a full England kit worth £200.
I have a Goldendoodle puppy called waffle who is my defender in the garden, and a baby brother Ralphie who is 18 months, I cant wait to teach my little brother football.
My mum and dad are my biggest fans and take me all over the country to watch me play. Once we travelled far away for a cup game in the rain I felt bad as my mum dad and grandads were getting soaked. Luckily I scored 6 goals in one game and they didn't seem to mind the rain anymore!
I am 8 now but playing under 10's next year!!!! eeeeek