Hi, I'm Marcela Ramírez. I was born on March 9, 1998 in the Colombian capital, Bogotá. From a very young age I always felt love for soccer, in fact I preferred to play with the ball Instead of playing with dolls. In 2007 my family moved to Villavicencio, a city located in Meta, a department in eastern Colombia.
There, I started my sports life when I was 9 years old. My first steps were in the futsal team of the College in which I studied. I played there until I was 17 years old, representing my educational institution. We were champions on several occasions at the departmental level.
Grewing up, I played with boys more than anything. My friends from school, from the neighborhood, on the blocks, on a micro-soccer or indoor soccer field nicknamed "the stream". It was my favorite place. When I was 15 years old in 2013 I was given the opportunity to start playing soccer.
Until that time I had never played, it was quite a strong change, adapting to the dimensions of the field, to the ball, to the rules. But I always wanted to do everything right and although at the beginning it was difficult. Great coaches and very cracked teammates taught me a lot.
Starting to play at 15 years old is difficult. Because there are many girls that start when they are 5 or maybe 7 years old. Since they started from a very young age and because they had experience, that was a personal challenge for me. Because I had to learn in a few months what they learned in years. In the beginning I played with the national team of the Meta department. At the time I was 15 to 17 years old.
UGLY COMMENTS
Also with a recognized club called "Llaneras FC". My process in the Meta Department was long and very useful. The biggest challenges I had was machismo. When I went out to play with my friends, the boys on the other teams were making ugly comments, when they were playing with a girl. At the school there were also girls and teachers who made somewhat unpleasant comments. The girls said that I was "tomboy" "that I behaved like a man to play soccer". They looked at me uglily, obviously not all of them, but there are things that left their mark.
Even I remember a teacher who once told me in a meeting with my mom, that I would not get anywhere with soccer. That it was better to get me out of playing and dedicate myself to study. Always I had the support of my family, and they built a strong character in me. So I just left those bad things and listened to the good ones. While I kept playing, I really faced many people because of my love for soccer. But I also won the admiration of many others and that prompted me to continue preparing myself.
THE PROFESSIONAL WOMEN'S SOCCER LEAGUE
In 2015 I finished my studies, I had studied at the Francisco de Paula Santander school in Villavicencio (Meta). From Third to eleventh, but I finished my studies at the Polytechnic Agroindustrial Institute of Villavicencio.
In January 2016 I returned to Bogotá with my family, looking for new opportunities. Thanks to the help of a teacher named Wilmer Mourinho. I entered a club called "Fortaleza CEIF". By the beginning of that year, the news came out that in 2017 there would be professional women's soccer in Colombia. Together with the coach and my teammates we prepared for that, since our team would also play the professional League.
At the end of 2016 I was selected to be part of the Fortaleza CEIF professional team. In January 2017 we started the preseason and weeks later I had the opportunity to debut as a professional player of the club of my loves Fortaleza CEIF.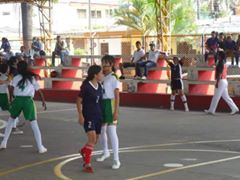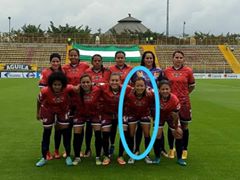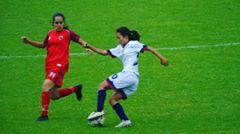 NEVER GIVE UP
There were many things to get here, ill-intentioned people, discrimination, also family financial situations, moments in which you really feel like you can't stand anymore. But there are always people with gold hearts who shake hands when we need it most. They, along with my family, encouraged me to never give up.
I debuted as a professional soccer player when I was 18 years old. Now I am 22 years old and I feel that I still have a long way to go. I dream of starting my university studies, I want to study sports training to motivate many boys and girls to follow the path of sport to get away from bad things. I also look to be able to continue in my sports career. Leaving a mark on people's hearts; a positive mark on the world.
In my country, sport is a tool for change, for those who suddenly do not have the same opportunities, Due to the social inequality that shelters us and I want to be part of that social change. I am a woman of great faith in God. I believe that I owe everything to him. Because much of what I went through in my life could get me out of the way. I am living a dream and wanting to help many to fulfill theirs. Thank you!