Hi, my name is Hunter Kintzing and I'm 11 years old and I'm from West Deptford, New Jersey. Now I've been playing soccer for 7 years. It started when I was 4 years old for my towns micro minis team.
After playing on that team for 2 years until I heard that that the travel team was hosting a tryout. I was determined to make the team. All the spare time I had I was playing 1v1s in my back yard of shooting at the park. I made the team but didn't really play much. And when I did play I played defense.
I felt like I didn't belong there and I wanted to be up scoring and making plays with the forwards and midfielders, so I made a change. When I was 8 years old I joined a summer league team. The Philadelphia Fury, and a new township team. The West Deptford storm where we went on to win flight 5 and later flight 2.
After one summer with the Fury the team fell apart, so I joined an edp team, the Deptford premier. I played center midfield for the first time and immediately fell in love with it.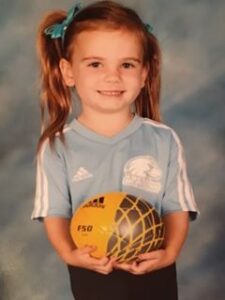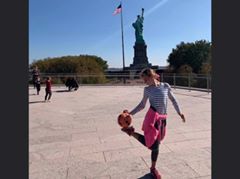 MY INJURY
I continued to play for the storm and in 2019 I had a major setback. in a game against a rival team I took a cleat to the foot, and hard, I went down crying and I'm usually pretty tough so that's when I knew something was wrong. It felt better after some ice so I was able to play in the finals where I scored a hattrick in a 2-3 win.
Later that week at premier practice while we were scrimmaging against the 2008 team it started to hurt again I had to come off the field and was taken to urgent care where the told us I had suffered and injury to my Growth plate. after my injury I switched clubs to the south jersey elite barons where I started out playing defense but now play mostly striker.
My goal is to play attacking center midfield for Stanford or university of North Carolina and later the us women's national team USWNT. My biggest dream is to win a World Cup and an olympic gold medal.